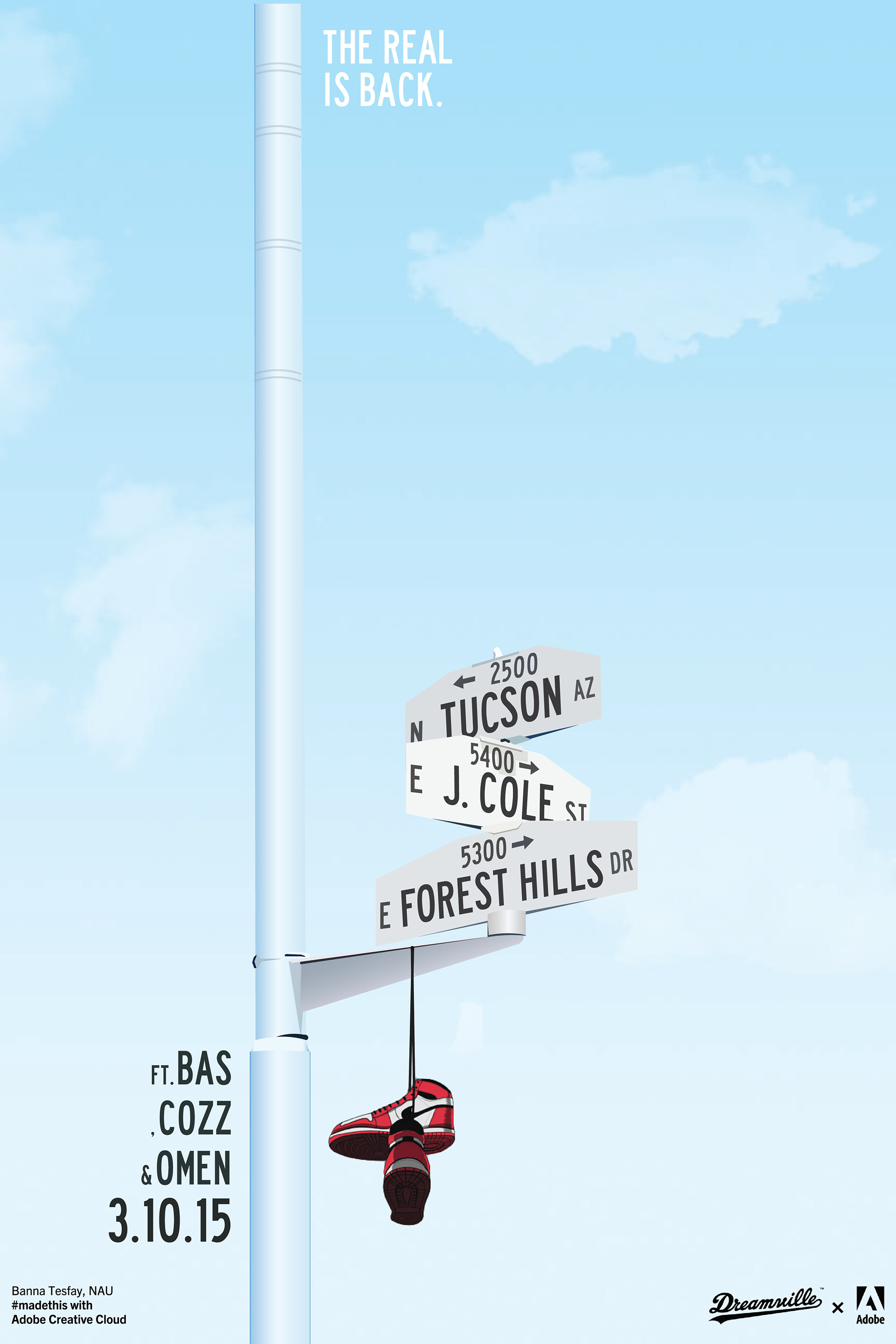 I am VERY proud to say that my poster deign was chosen to use as promotional content for the Forest Hills Drive Concert Tour.
Ever since I was a child, and watched my older sister work her way through the advertising market in New York, I've developed a flourishing appreciation for marketing and advertising. Granted, it's not what every strict, foreign parent wants to hear; that their child wanted to work in the world of marketing, design, and art rather than become a lawyer or a surgeon of some sort. But that only forced me to strive for what I wanted to do more.

There's a rare beauty that comes with technology; a platform that can keep people connected in a plethora of ways. It's how we tell our story, and how we can let the world listen. Even when we're just posting a picture to Instagram, or if we're submitting our first page tagline for the New York Times. We're all storytellers, in so many different ways. 

When I was in elementary school, my friends and I started a morning news broadcast, which was really just my science teacher letting us use her lab room to put up a green screen and a camera that connected to her computer, which was played for the whole school every morning. I was so enthralled with this idea that I could produce something that people would watch everyday, even if it was just me and my classmate telling everyone what was on the lunch menu and giving them a "word of the day". 

I took this hobby, and turned it into a passion. In high school, I had the chance to be apart of the Yearbook production team, the closest form of journalism we had at our off-the-radar high school. Our adviser, Mr. Heinrich, would always tell us, "This is not a class. This is not a pastime. This is a business. And this is YOUR book."

Mr. Heinrich instilled the views I have on journalism to a permanent status. In order to get a vast majority to read what you write, or look at what you created, you have to give them something to read and look at in the first place. In my instance, in order to get everyone in the school to buy a yearbook, we had to have it appeal to everyone that we wanted to have purchase it, and in the most positive way we could. 

Long story short, I ended up working up to one of the head editor positions, and published one of the most popular yearbooks our school had in a good amount of years (excluding our 50th Anniversary book). I was even offered a free trip to Josten's Yearbook Camp in San Diego with my fellow editors, where I could learn and understand journalism concepts and  enter my template designs for contests with yearbook editors all over the country (and placed 3rd).

Over the years, I found so many different ways to tell a story, and I haven't found a method I didn't like. I've been thankful to be given so many opportunities to study the art of communication in all its forms, whether it was at design studios, fashion shows, advertising companies in New York, and even major movie sets, right down to being able to work at my university in the marketing department, and I hope Dreamville will give me the opportunity to go grasp such a great opportunity to tell more stories throughout the tour. I've come to notice that the movies and backstage stories that happen from tours (i.e. Katy Perry, One Direction, etc.) are way more popular to the public. It's the idea that this celebrity that they usually always see in a praised setting, is actually a normal person, someone to relate to. To be on tour for a concert would be one of the best experiences I could ask for, and I cannot begin to explain what it would do for me and my voice.